Hello sweetpeas!! Welcome to our first little tutorial, I'm so excited to be able to make this for you and I hope it can be encouraging and maybe help teach you something new! Today we're going to be painting a bunnyfly (bunner-fly? I'm workin' on the name!) I'm going to be painting in oils, and I paint in a technique called Alla Prima, or "all in one"! You are welcome to paint along in this style with me, or please feel encouraged to use whatever other paint and supplies you have available, and just skim over the general "guide" I've...
---
Hurray!! The first painting class is on its way :)Here's the details you need to know:The class will be both a permanent online blog post, and a live event on Friday May 28th at 4:00 pm EST On the blog here there will be a permanent post with suggested supplies, photos, video clips and written explanation walking you step-by-step through the painting process. Along with that, I'll have some reference images and sketches for you to use at your convenience! The live session will be on my Instagram (@shelbydegarmo) at 4pm EST, where I'll be doing the same steps and...
---
SO here's all the news I have about what's happenin' this weekend!Black Friday is a huge shopping weekend for many people, and as a small business/independent artist I wanted to try and organize as much as I could to make it special, and possibly inspire you to shop small this season! Here's the details of my Black Friday plans:- Weekend long BOGO 50% off on all art prints/stickers, I make them all from my home studio <3 - A raffle here that ends Saturday at noon, where EIGHT winners will get their pick at a set of original paintings, or prints!...
---
Hello and good morning!!I'm just popping in to say that I've added this weeks pieces up as both prints and original paintings (the ones that were available). I feel like the rainbow aesthetic is getting stronger lately and I'm loving the magical vibes that these newer pieces have going on!As for shipping news, as many of you may already have seen in the news, the USPS is currently experiencing many delays and budget problems meaning some mail is being heavily delayed. I exclusively mail all of my orders through the USPS and am happy to continue to support them, however...
---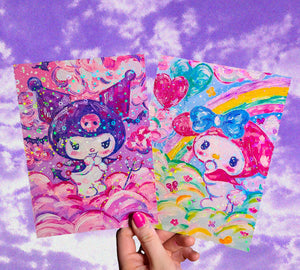 I'm so happy to say today's the sparkly day! Holographic prints and stickers are available as a variant to every available design, and will be available for all new designs going forward.This is one exciting new release, and one of many I have planned for the near future. Enjoy having some rainbow, sparkly art!